Ospreys defeat Buccaneers with impressive team shooting performance
Although both teams battled throughout the game, the Ospreys prevailed by shooting 47 percent from the field and a key shot from Redshirt-Sophomore J.T. Escobar.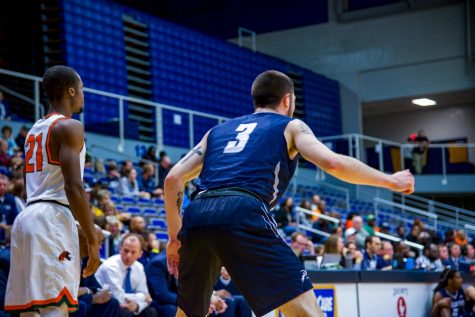 The Buccaneers (4-4) recorded an early 9-8 lead by starting out aggressively but the Ospreys (4-5) quickly answered by leading 22-19 at the second media timeout. Juniors Noah Horchler and Garrett Sams recorded 11 points apiece and the team shot 55 percent in the first half, leading 42-37.
In the second half, the Ospreys continued their active defense by recording five turnovers in the first three minutes. The game became more back and forth when the Buccaneers put the Ospreys on their heels with a fast-paced play style. The Ospreys were smothered with the press and traps from the Buccaneers but found ways to move the ball and find men outside for three pointers. Late in the game, the Ospreys were only up one when J.T. Escobar hit a three point dagger to extend the lead to 73-69 with 1:27 left. That shot cemented the win as the Buccaneers weren't able to muster much offense after Escobar's clutch shot, Ospreys win, 76-70.
Horchler finished the game with 17 points, nailing eight of his 10 shots, one of them a there pointer. Sams led the team in scoring with 20 points and pulled down seven boards. Junior Ivan Gandia-Rosa scored 15 and led the team with six dishes.
—
For more information or news tips, or if you see an error in this story or have any compliments or concerns, contact [email protected].