UNF Women's Basketball falls in close battle with Rams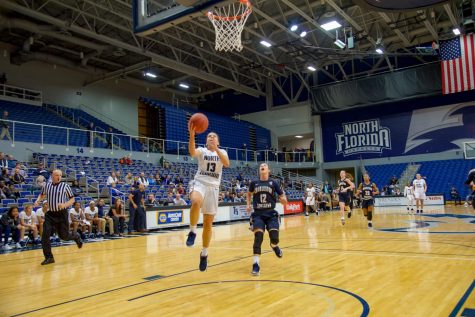 In their third game of the season against a Power 5 team, the Ospreys hung tough with Colorado State until a cold-shooting third quarter, which was too much to come back from.
The home court advantage was nonexistent throughout the first half as the Ospreys (3-3) held their own. Junior Dasha Eremeeva led the Ospreys on the attack with nine points and also pulled down five boards. UNF felt comfortable behind the arc, making 7-17 of their three-point shots. At the end of the first half, the Ospreys led 34-33.
The Rams (3-3) made some key adjustments going into the second half, forcing the Ospreys to shoot 29 percent from the field. Sophomore Lore Devos was the playmaker for CSU in the second half, scoring 11 points and recording three rebounds. Although the Ospreys weren't shooting as well as the first half, scoring five total points in the third quarter, they answered with 20 points in the fourth quarter. That third quarter made the difference for the Ospreys as their comeback was not enough, losing 59-61 to the Rams.
Junior Adrienne Jackson was electric, shooting 6-12 from the field, 4-9 from the arc and recorded 16 points. Eremeeva added 11 points and led the team in rebounds with 10.
The Ospreys have a week off as they prepare for finals week and have their next game against FIU at home on Tuesday, Dec. 11 at 7:00 p.m.
—
For more information or news tips, or if you see an error in this story or have any compliments or concerns, contact [email protected].