Horchler scores 22 in Ospreys win over Buccaneers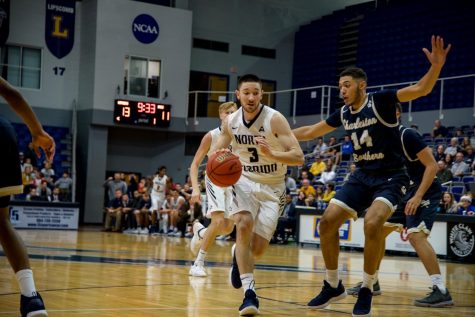 On a night when the UNF Ospreys turned the ball over 11 more times than their opponent, only made 25 percent of their three-point shots, their relentless defense was the difference in a 68-61 home win over the Charleston Southern University Buccaneers.  
The Buccaneer (4-6) defensive strategy caused the Ospreys (5-7) problems. They harassed the inbounds passers after scores, ran a three-quarter court press and constantly trapped the Osprey guards, forcing the UNF bigs to bring the ball up and disrupting the offensive rhythm.
UNF leading scorer, Junior Noah Horchler, carried the Ospreys, scoring 22 points to go along with 10 rebounds on the night.  Horchler scored in every conceivable way, showcasing his skillset. There were jump hooks in the paint, a three pointer, a dunk, and even a one legged fallaway baseline jumper.  He finished up his scoring down the stretch with free throws (9-13 on the night) and even added three blocked shots and a steal to round out a complete effort. Horchler scored timely baskets for the Ospreys.
"Every time we need a bucket, (I) just try to get to my spot and then they feed me. I just do what I do." Horchler said.
Horchler got plenty of help, as Junior Wajid Aminu chipped in with 13 points and 10 rebounds of his own.  His scoring ignited the crowd on multiple occasions as he threw down powerful dunks in both the open and half court.
Redshirt-Junior JT Escobar also contributed with 14 points.
The Ospreys held the Bucs to 29.3 percent from the field and 17.4 percent from beyond the arc.  The only decent percentage the Buccaneers were able to manage was from the line where they shot 76.5% as a team, hitting 13-17 free throws.
Charleston Southern's star guard, Junior Christian Keeling, came into the game averaging 18.7 points per game on the season but was held to 10 points on the night on only 4-14 shooting.
"We didn't play him any differently than any other guy.  We didn't game plan for him specifically," UNF Men's Basketball Coach Matthew Driscoll said of the effort to stop Keeling.
Freshman  Dontrell Shuler led the scoring for the Buccaneers with 20 points, but made only 6-15 shots.
The Ospreys improve to 5-7 on the season and currently sit first in the A-Sun conference.  They play at Florida State on December 19 at 7 p.m.
—
For more information or news tips, or if you see an error in this story or have any compliments or concerns, contact [email protected]