Matthews too much to handle for Ospreys in road loss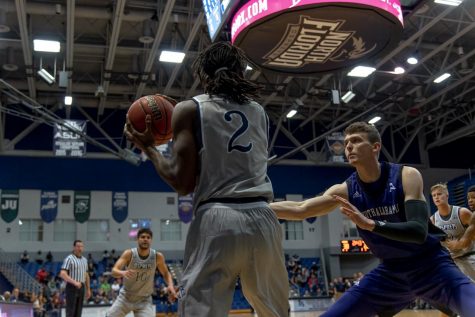 The Bisons edged past the Ospreys with tough defense and hot shooting throughout the game.
It was a back and forth affair to start the game as each team traded points. Senior Eli Pepper opened the game up with a three and Junior Garrett Rams quickly countered with a three of his own to tie the game at three. The Ospreys struggled from the field as they went 12-34 and were only 4-17 from the arc.
At halftime, the Bisons led, 41-28. Senior Garrison Matthews led the attack with 15 points and Sams led the team with nine points. Junior Noah Horchler added seven rebounds for the Ospreys.
As the second half began, the Bisons hot shooting continued from the likes of Matthews, Senior Eli Pepper, and Junior Kenny Cooper. Redshirt-Junior J.T. Escobar attempted to get the Ospreys attack back in motion by going 3-5 in three-pointers. Junior Ivan Gandia-Rosa added nine points in the second half and dished out three assists. The Ospreys pulled within eight on a three by Escobar with four minutes left with the Bisons up, 70-62. The Bisons defense prevented the Ospreys from coming any closer as they kept burying shots to put UNF in an even larger hole to come back. Lipscomb finished the game with an 81-68 win.
Matthews finished the game with 25 points and was 10-20 from the field. Pepper recorded a double-double as he scored 20 and grabbed 11 boards.
All of the starting five for UNF scored in double digits as Horchler, Junior Wajid Aminu, Escobar and Sams all scored 12 apiece. Horchler also recorded a double-double as he had 10 rebounds. Gandia-Rosa finished with 11 points and was the game's leader in assists with six.
That loss drops UNF to 7-10 (1-1 ASUN) and the Ospreys look to bounce back in their home game on Saturday, Jan. 12 against Michael Fly's FGCU Eagles at 5 p.m.
—
For more information or news tips, or if you see an error in this story or have any compliments or concerns, contact [email protected]