Sams scores 18 in Ospreys road win over Hatters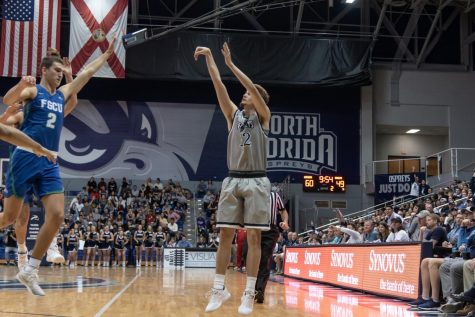 The Stetson Hatters would not go quietly but the UNF Ospreys held on to earn their second road win of the season, 87-77.
At the half, the Ospreys led by one, 42-41.  UNF opened the second half hot, extending the lead to as many as 12 before the Hatters fought back to get within five points.
However, hot Osprey shooting eventually stretched the lead back to 15 before finishing with a strong 10 point win.
UNF again showed a balanced attack with all five starters scoring in double figures, and every player on the roster registering a point or more.
Junior Garrett Sams led with 18 points, including 4-7 from beyond the three-point arc.
The Ospreys as a team shot well on the night, hitting 50 percent from the field and 43.3 percent from three.
Star Forward and leading scorer on the season, Junior Noah Horchler, played most of the game in foul trouble and scored only 11 points.  Horchler, who is in the top 25 in rebounding in the nation, only managed seven rebounds on the night despite averaging a double-double on the season.
Redshirt-Junior J.T. Escobar, and Forwards Horchler and Junior Wajid Aminu tied for the team lead with seven rebounds apiece.
Junior Ivan Gandia-Rosa tallied nine of the team's 19 assists on the night.
UNF improved to 9-10 overall and 3-1 in conference play, while Stetson dropped to 4-14 and 0-3 in the conference.
The Ospreys match up with Liberty on Saturday, Jan. 19 at 7 p.m. in Lynchburg.
__
For more information or news tips, or if you see an error in this story or have any compliments or concerns, contact [email protected]