Sadler lands Giant promotion
Former UNF student, Sami Sadler, recently was named the Interim General Manager of the ABA's Jacksonville Giants.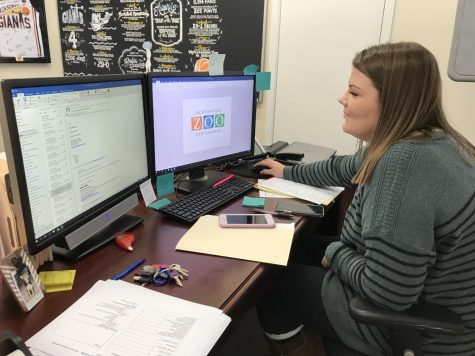 Once Sadler graduated UNF in Spring of 2018, she had different ideas of careers to pursue.
"When I graduated UNF, I was unsure of what I wanted to do. At first I wanted to get into coaching because I was a manager for UNF Women's Basketball. I was also leaning towards a front office job because I enjoyed the game day experience with the players," Sadler explained.
After interning with the Giants, Sadler moved back home to work at a hotel before getting the big call.
"After my internship with the Giants ended, I got the job as marketing and basketball operations coordinator.  After that, I ended up going back home and working for a hotel and when Ms. Pam, the former Giants General Manager, stepped down, she called me and asked me if I wanted to do it, and I said yes," Sadler said.
As General Manager, Sadler has various duties on a day to day basis.
"My day to day duties vary. I do the new player's contracts, I work with different arenas, we're working with Pedro Menendez in St. Augustine right now to get a game there in February," Sadler said. "I work with the Veterans Memorial Arena and have meetings with them to go over the logistics of the game that we play there on January 19. I also write the script for the games."
Sadler has goals in mind as GM and discussed with Spinnaker what she hopes to bring to the table.
"I want it to be different, we've kind of fell into the same patterns before and I want to reach out to different audiences and broaden our horizons because we are five time champs and that's kind of a big deal," Sadler said.
Although the Jacksonville Giants are a semi-professional team, the squad has an impressive record sheet and Sadler believes that entertainment is a key part of the experience at the games.
"We have a really good team, we have won the most championships in ABA history, we've scored the most points in a basketball game ever, and it's also cheap entertainment. When you go to an Orlando Magic game, it's not as much entertainment as this and I think that's what brings people to us," Sadler said.
Sadler explained how being a student manager for the University of North Florida's Women's Basketball team prepared her for being General Manager for the Giants.
"It helped me because I know what the players are going through time management wise, they have other jobs, this is kind of like their part-time job," Sadler said.
The Giants recently played a game at the Veterans Memorial Arena on Saturday, Jan. 19 against the Austin Bats in a Final Four rematch and won, 132-122.
—
For more information or news tips, or if you see an error in this story or have any compliments or concerns, contact [email protected]