Brown scores 25 for Dolphins in road win over Ospreys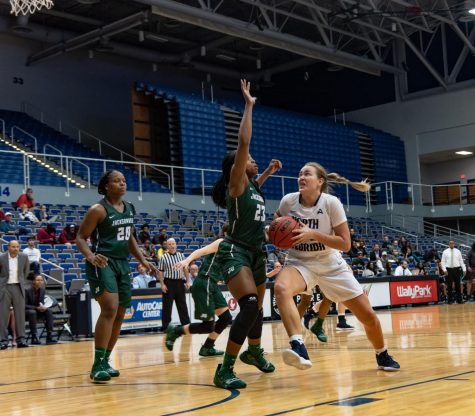 Hot shooting pushed the University of North Florida Women's Basketball team to an early lead, but the Ospreys couldn't hold it and lost a key conference matchup against their cross-town rivals, the Jacksonville University Dolphins, 80-72, Tuesday night at UNF Arena.
UNF has lost 13 in a row in this series; JU now leads 22-8 all time.
Last week's ASUN Player of the Week, Redshirt-Sophomore Jazz Bond, led the Ospreys with 18 points and 10 rebounds on the night.
"Overall, I just want to go into each game aggressive…attack the offensive boards and that's just my mindset right now is attacking the offensive boards," Bond said.
Senior Jasmyn Brown was the main force for the Dolphins, finishing with a stat line of 25 points, eight rebounds and five assists to carry her team to the win.
The action was back and forth as well as fast paced in the first half with the Ospreys taking a four-point 37-34 lead into the locker room at the break.
In the first half, UNF was blistering from the three, shooting 58 percent (7-12). The Ospreys shot 53 percent overall, and all but one player scored at least a basket.
Head Coach Darrick Gibbs talked about some bright spots to take away from the loss against JU.
"We got contributions from multiple people having four people in double figures which is something that we have struggled with a little bit over the last couple games," Gibbs said.
The tempo slowed in the third quarter as the Dolphins dug in on defense, getting stops and clawing their way back to 47-46 lead with 3:30 remaining in the third quarter after trailing by as many as nine points.
The Ospreys continued to fight and ended the third with a two-point 54-52 lead.
The final period featured more of the same.  Key baskets from Brown helped to overtake the Ospreys and stretch a Dolphin lead to as many as eight points.
Four of five Osprey starters scored in double figures.  Senior Ty Purifoy ran the offense well and finished with seven assists on the night, but she was only able to connect on 2-7 free throws.
UNF shot only 50 percent for the game from the stripe (7 of 15), while connecting on 44 percent from the floor and just under 46 percent from behind the arc.
The Osprey loss drops them to 7-12 (2-4 ASUN) and the Dolphins win moves them to 11-8 (4-2 ASUN). The Ospreys head to Florida Gulf Coast University on Sunday, Jan. 27  at 2 p.m.
—
For more information or news tips, or if you see an error in this story or have any compliments or concerns, contact [email protected]