Ospreys tennis weekend recap
The UNF Ospreys Tennis teams competed in a weekend match-up and had success against Mercer and Buffalo.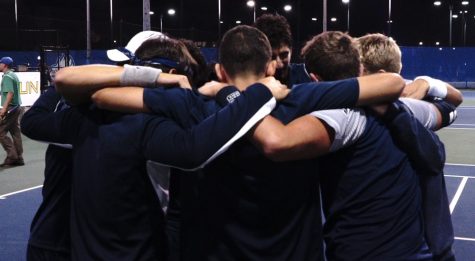 For the UNF Women's Tennis team, the Ospreys went 5-2 against the Mercer Bears. The five winners in singles matches were Junior Lucia Montano, Freshman Ana Paula Melilo, Freshman Sean Lodzki, and Sophomore Florencia Rossi. With these wins,  the UNF Women's Tennis team improves to 16-5 in their last 21 matches at home. On the doubles side, the Ospreys swept the Bears winning all three doubles matches. The first doubles win was by the duo of Senior Rafaela Gomez and Junior Constanza Gorches. The other two doubles matches were won by the duos of Sophomore Valentina Mariotto and Melilo with the other duo being Montano and Rossi.
The UNF Men's tennis team went 6-1 in their singles matches against Mercer on Friday, Feb. 8. The last six singles matches of the day were won by the Ospreys all in a row. The winners of these matches were, Deshmukh, Barton, Nunez, Duarte, and Nani. On the doubles side the duo's for the Ospreys won two of the three matches played. The winning duos were Senior Sahil Deshmukh and Freshman Dominik Barton along with the duo of Junior Federico Nani and Sophomore Jorge Nunez. These were the first matches that both pairs have played together, according to UNF Athletics.
Both the Men's and Women's Tennis teams have extremely successful and productive days against Mercer handling them overall for a total record of 11-3 combined in singles. They also combined for a 5-1 record on the day. It was a day full of winning for both teams.
On Saturday, Feb. 9,  the Ospreys Women's Tennis team traveled to Tallahassee to take on the Florida State tennis team where they suffered a tough 4-0 sweep not winning any matches on the day.
The UNF Men's Tennis team took on the Buffalo Bulls at home on Sunday, Feb. 10  and cruised to a 5-2 win. On the singles side, the winners were Deshmukh, Barton, Nunez, Nani. The doubles pairings all won their matches defeating Buffalo for a total of 3-0. The winning pairings were Senior Till Von Winning/Duarte, Deshmukh/Barton, and Nunez/Nani.
The Women's team has a home match-up against Flagler College on Tuesday, Feb. 12 at 11 a.m. The Men's team heads to Fort Myers to take on Florida Gulf Coast on Saturday, Feb. 16 at 5 p.m.
__
For more information or news tips, or if you see an error in this story or have any compliments or concerns, contact [email protected]