Bond, Green lead the way in key road win
The UNF Women's Basketball team got out to a 10-0 start to open the game on the road against the Stetson Hatters and didn't look back in a convincing 75-62 road win to continue their hot streak before the ASUN Conference Tournament.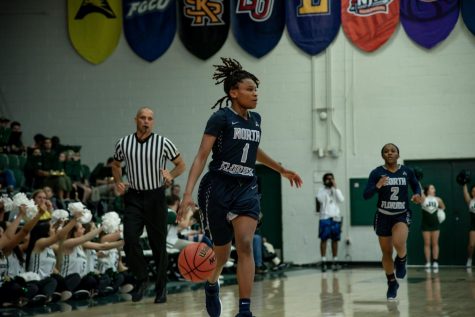 The Ospreys opened up quickly with 10 straight points before the Hatters scored.  Stetson fought the rest of the way, showing why they only lost three games all season in conference play.  After the opening 10-0 UNF run, Stetson was able to take control with a 28-13 run which continued into the second quarter.
UNF regained control with a 16-2 run to end the half.
Redshirt-Sophomore Jazz Bond led the way with 10 points in the first half for the Ospreys. She also had two blocks to continue a pattern of stellar defensive play.
UNF shot extremely well in the first half, 55.6 percent from the floor and matching that percentage from beyond the arc.
The Ospreys went into halftime leading by nine, 39-30.
The third quarter saw the Ospreys extend the defense and UNF led by as many as 13 points.
Stetson continued to fight, but UNF continued to stretch the lead.
With just under five minutes remaining, the Ospreys pushed the lead back to 13 points.  With consistent defense and shot making, the Ospreys cruised to a relatively easy 75-62 victory in the final conference regular season game.
The lone bright spot for Stetson was forward Sophomore Day'Neshia Banks, who finished with 25 points and nine rebounds for the game.
The Ospreys were led by Bond, who filled up the stat sheet with 22 points, eight rebounds, and five blocks.
Junior  Janesha Green contributed with a double-double of 18 points and 10 rebounds to help cement the win.
The Ospreys had one of their best shooting games of the season, making 49 percent from the floor and 57 percent from beyond the arc.
The win improved the Ospreys to 13-13 (8-7 ASUN) on the year.  Stetson dropped to 15-13 (10-4 ASUN).
UNF plays at home against NJIT on Tuesday, March  5 at 7 p.m. 
__
For more information or news tips, or if you see an error in this story or have any compliments or concerns, contact [email protected]