ASUN Women's Basketball Quarterfinals Preview: UNF vs UNA
After finishing with their best record as a Division 1 team, the Ospreys set their sights on North Alabama in the ASUN Women's Basketball Quarterfinals.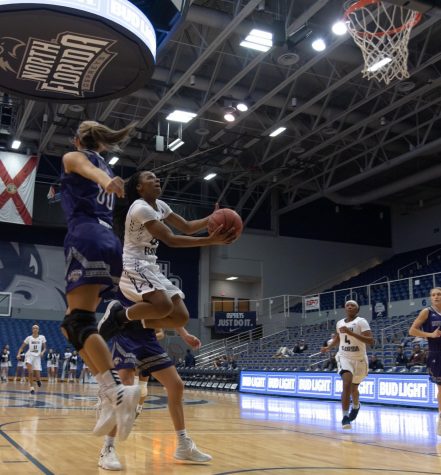 The Ospreys (14-13, 9-7 ASUN) have won their last three games of the regular season, including their most recent win on Monday, March 4 against NJIT at home, where they won, 54-46. Redshirt-Sophomore Jazz Bond recorded 15 points in that game and grabbed eight rebounds. Two of the Ospreys finished in the top 10 in the ASUN in points per game this season as Bond finished in second with 16.2  and Senior Arianna Emanuel-Wright finished in eighth with 14.1.
This game will also be a battle of the best passers in the conference. Both Senior Ty Purifoy of the Ospreys and Junior Ivy Wallen of the Lions are the top two leaders in assists with Wallen leading with 168 and Purifoy dishing out 150.
The Lions (19-7,10-6 ASUN) lost to Liberty, 61-48, in their final regular season game. Junior Brittany Panetti led the Lions with 16 points and grabbed five rebounds.
The Ospreys need to score early in this game to get the upper hand as the Lions are the most accurate team in the ASUN  when shooting from the field with a clip of 44 percent.
Tip-off is at 6:30 p.m. at Flowers Hall in Madison, Alabama on Friday, March 8.
—
For more information or news tips, or if you see an error in this story or have any compliments or concerns, contact [email protected]