Bulls outlast Ospreys on Tennis court
The UNF Ospreys started the match winning two of three doubles matches to take the first points but could not maintain the lead in a 5-2 loss against the USF Bulls.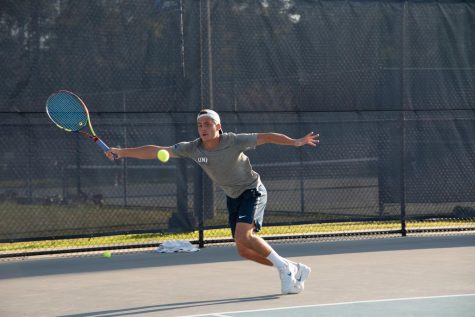 The Bulls came into the UNF Tennis complex ranked No.45 in the nation.  The Ospreys hoped to take a win off their ranked opponent but could not complete the task after going ahead early.
The Ospreys led 1-0 after the two teams of Junior Frederico Nani/Sophomore Jorge Nunez and Freshman Dominik Barton/Senior Till Von Winning earned victories.
Nani and Nunez won their match in a hard-fought battle 7-6.  Their UNF teammates, the duo of Barton and Von Winning had a much easier road, getting a 6-2 win.
The third Osprey duo did not fare as well, falling 6-4 in their doubles match before the singles round began.
After Sophomore Nilo Duarte opened the singles play with an easy 6-4, 6-1 win in his match, the rest of the Ospreys could not continue the momentum.
USF won five straight singles matches to put the event in the books with a final score of 5-2 on the day.
In the longest singles match, UFS's Junior Jakub Wojcik defeated Nunez,7-5,10-8 in the final match of the day.
"I was really proud of the feel of the match; I was having a blast and having fun. The way the match felt, it looked like the guys played with enthusiasm and passion, and that's what we've been searching for. Even the guys that didn't win put themselves in the right position," UNF Men's Tennis Head Coach Matt Lucas said.
The loss leaves the Ospreys at 5-9 (0-1 ASUN) on the season and the Bulls improve to 9-5 (1-0 Conference).
The Ospreys will be back in action against South Alabama on Friday, March 15 at 2 p.m.
—
For more information or news tips, or if you see an error in this story or have any compliments or concerns, contact [email protected]