Ospreys capitalize on Bulls miscues in impressive home win
The UNF Baseball team rattled the Bulls early in the game and rode that wave throughout the full nine innings for a 7-2 win.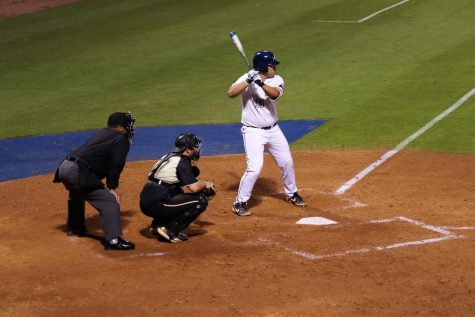 Junior Tanner Murphy got the Ospreys offense going early as he lined a double to left to score one in the bottom of the first for a 1-0 lead. Senior Jay Prather and Murphy scored on a USF fielding error to extend the lead to 3-0 to close out the first inning.
The Ospreys continued to mess with the Bulls but didn't get the horns as Senior Chris Berry drew a bases loaded walk in the bottom of the fourth to plate a runner for a 4-0 lead and Murphy later scored on a wild pitch to pad the lead to 5-0. Junior Austin Hurwitz scored on yet another wild pitch in the same inning as the Ospreys were up, 6-0.
There was miniscule support from the USF hitters as they chipped in two runs in the sixth and seventh inning to put the Ospreys lead at 6-2.
The final nail in the coffin was Prather crossing home plate in the bottom of the eighth on a wild pitch for a 7-2 lead to cement the UNF win.
Senior Trace Norkus had a solid outing with four scoreless innings of two-hit ball and five punchouts.
Worth Noting
Three of the Ospreys runs were scored on wild pitches.
Prather and Murphy each recorded three hits in the win.
Redshirt-Junior Hunter Bowling earned his first win of the season on two innings of one-run ball in relief with three strikeouts.
The Ospreys improve their record to 14-9 on the year and the Bulls loss drops them to 11-8. UNF begins their first series of conference play as they take on Florida Gulf Coast University at home on Friday, March 22 at 6:05 p.m.
—
For more information or news tips, or if you see an error in this story or have any compliments or concerns, contact [email protected]