Osprey Women's Basketball Season Wrap-Up and Look Ahead
The UNF Women's basketball team ended the 2018-19 season in a way that no team wants to, with a loss. Despite that, the team made big strides during the season and look to build on those with more success on the floor next season. In the semi-final matchup of the ASUN Conference Tournament, the Ospreys fell to the Liberty Flames, ending their season.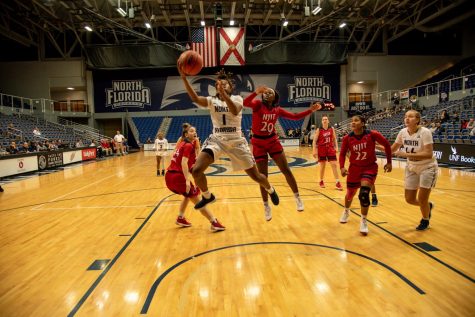 There were positives to be taken from the season though. The team finished with a record of 15-14 on the year, highlighted by a four-game winning streak before falling in the conference tournament. That record would mark the first time as a Division I program that UNF Women's Basketball finished a season over .500.
Redshirt-Sophomore Jazz Bond was named All-Conference Second Team, while placing second in the conference in points per game at 15.9, fourth in rebounds per game at 7.5, fourth in three-point percentage at 37.9, and second in total blocks with 55.
      

Senior Arianna Emanuel-Wright was fifth in the conference in made field goals with 154.

      

Junior Forward Adrienne Jackson placed  fifth in three-point percentage at 37.6.

      

Senior Ty Purifoy was second in the conference with 165 assists and fifth in steals with 58.
The team had plenty of rough patches throughout the year but was able to grow and keep working towards a positive finish.
While the Ospreys have gotten to be a very good defensive team, a place they fell short last season was on the glass.  Despite Bond leading the team and being fourth in the conference in rebounds per game, this was a point of emphasis for Gibbs. He points to a game where his team made stop after stop but was unable to secure the defensive board and gave their opponent extra possessions.
With another offseason of work, and the addition of talented incoming 6'3 Center Emma Broermann from Baden High School in Hamilton, Ohio, the need for more rebounding and physical toughness will immediately get a boost. Combining that with Bond and Eremeeva should make for a potent frontcourt with lineup flexibility.
"I'm actually really happy she's coming because we have post players on our team, but we don't have a legit big body, and having her will change the game a lot," Bond said of playing with the new frontcourt addition.
Other than individual improvement, shooting looks to remain where it is. The return of Sophomore Tiffany Tolbert (if she can return to her previous form), can be an injection of instant offense on the perimeter as a compliment to a strong frontcourt. Sophomore Elli Bartley has shown the ability to shoot the three, making 36 percent of her attempts as a freshman before falling off to 29 percent in her sophomore campaign. Sophomore Rhetta Moore also showed that she could shoot the three as a freshman, going just under 42 percent from beyond the arc before plummeting to 22 percent in her second season.  Bond and Jackson must continue to hit threes at their 37 percent clip or improve for the Ospreys to have a credible threat on the floor from long range.
The departure of  Purifoy and Emanuel-Wright leaves a hole in veteran floor leadership in multiple ways. Purifoy was second in the conference in total assists during the season and twice set the UNF single game assist record with 11 and 12.  She was the primary distributor and initiator of offense for the squad. Her graduation leaves a lack of an experienced playmaker and signal caller on both offense and defense.
"That's going to be hard…she did a lot for us. You talk about a floor general and organizing our offense, but also her communication and organizing us on defence; she had an unbelievable basketball IQ. She was really a coach out on the floor for us," Gibbs said.
The point guard duties will be handled primarily next season by Bartley and Tolbert who will be returning from injury. Tolbert is more of a combo guard do to her ability to score (18 points per game before injury), but according to Gibbs, Tolbert should be more cerebral in her game after a year of watching the game from the bench.
"I could use some work on reading the defense more, looking for second and third opportunities," Tolbert said.
Emanuel-Wright's loss will be felt on both ends.  She was the second leading scorer on the team, an active defender and the most athletic player on the roster.
"We will miss her length and athleticism, and we honestly don't have that coming in. That will affect us in our transition game which has been a staple of how we've played and when wave had a lot of success and it's also going to be a challenge for us on the defensive end. So, we're really going to have to scheme and find a way to put us in position to have success on both ends," Gibbs said.
Gibbs sees Junior Janesha Green being the player who makes the biggest step forward next season.
"I think Janesha is a kid who can really step to the forefront and have the biggest jump. I think Jazz [Bond] too…this was her third year in college. She was essentially a freshman on the floor, and she averaged 16 and 7, and this was the first real basketball she's played since high school," said Gibbs. "I think there's another level to this kid that she doesn't even realize she has…I think there's another level to her and she should be absolutely unguardable."
Bond discussed her goals for the next season.
"My goals for next year are improving around the basket. This year for me was the first time really playing around the basket. I'm used to being on the perimeter at the three spot. You know just improving my game in the paint more and of course being comfortable when I do go out to the perimeter," Bond said.
The out of conference schedule will be challenging.  Gibbs believes in playing a tough schedule to prepare his unit for conference play. The Ospreys will face FSU, Miami, FIU, Charleston Southern, and are in talks for possible matchups with Wisconsin, Wake Forest, or Rutgers.
"It's a matter of finding teams that kind of match up to some of the conference teams that we play… giving them experience in guarding and defending the different things and seeing the different defensive schemes to what we want to do offensively," said Gibbs.
Tolbert included that maintaining a positive attitude will be a key for next season.
"One thing we can improve on is understanding that it's a long game and we are gonna make mistakes; stuff is gonna happen…just being able to move on quicker and keep positive energy throughout adversity. If we understand that, then we aint gon' be nuttin' to play with," Tolbert said.
Bond's key for next season is consistency.
"For me, I would say being consistent and when it comes with consistency it all starts in practice. We can't have one day bad practice, the next day good practice because that all correlates to the games we play; we'll have losses, then we'll have wins. If we have continual great practices, then it'll correlate to the game."
"I'm most proud of our resilience…this was a really mentally taxing year for everybody. I would say this group responded well. We continued to grind we continued to get better; we continued to find ways to have impact as a team," said Gibbs. "The stretch at the end… we were able to finally find our groove and come together to win games…that was fun, to see it all come together."
Bond is understandably excited for next season.
"We have basically the whole team coming back, and I can't wait to see how we'll be ballin' next year."
–
For more information or news tips, or if you see an error in this story or have any compliments or concerns, contact [email protected].