Ospreys take two but fall to Bisons in ASUN Championship
After consecutive wins over FGCU and Liberty, the Ospreys fell to Lipscomb in the final matchup.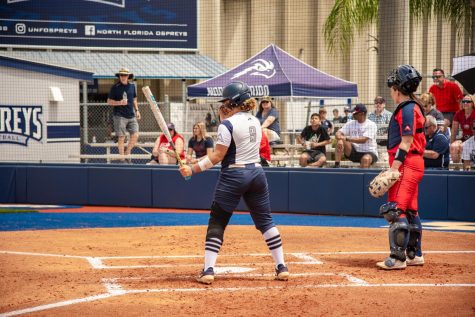 Game One
In the first two innings, the Ospreys got out to a 5-0 lead with Senior Dominica Cocuzza leading the charge with a pair of RBI's.
The Eagles attempted to mount a comeback but they could only drum up three runs as the Ospreys won, 5-3.
Game Two
After the Flames scored on a fielder's choice in the first inning, Liberty locked up an early 1-0 lead.
That lead would go to waste as the Ospreys exploded in the fifth with three straight runs, leading to a 3-1 UNF win, advancing them to the finals against Lipscomb.
Game Three
After a throwing error by the shortstop, Junior Rindy Bryant scored in the second inning for a 1-0 Ospreys lead.
The Bisons plated two on a pair of RBI singles in the bottom of the second to pick up a 3-1 lead.
The lead was stretched to 4-1 after Junior Hannah DeVault hit a solo homer in the bottom of the fourth.
Junior Taylor Engman answered with an RBI single to left to cut the Ospreys deficit to 4-2, Bisons.
Lipscomb went on a tear in the sixth inning with a trio of RBI singles which led to an 8-2 win, crowning themselves as the ASUN Softball Champions.
Worth Noting
Junior Morgan Clausen, Freshman Paige Pfent, and Senior Navia Penrod all won ASUN All-Tournament honors.
The Ospreys finished the season as conference runner-up and look towards getting over that final hump next season.
__
For more information or news tips, or if you see an error in this story or have any compliments or concerns, contact [email protected].