Ivan Gandia-Rosa: The UNF Globetrotter
Cover photo courtesy of: Ivan Gandia-Rosa
Two years ago, Ivan Gandia-Rosa was playing basketball in front of small junior college crowds. This summer, he traveled the world representing his homeland of Puerto Rico in international tournaments.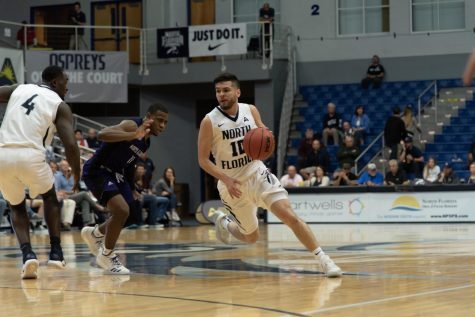 "It was a great experience, for sure. To travel the whole world just playing basketball is a blessing and playing against world-class teams around the world was a great experience for me," Gandia-Rosa, the six foot one guard for UNF Men's Basketball, said.
Gandia-Rosa received the call about the national team late last season and was elated to contact UNF Men's Basketball Head Coach Matthew Driscoll.
"It's amazing, once I first told him that they had called me, he was excited and ready for me to go," Gandia-Rosa said.
The senior from Caguas began his journey with the national team with tournaments in Argentina and the Pan American Games in Peru, where Puerto Rico won the silver medal.
"The Pan American Games was a great experience. Winning the silver medal is even better for us with the younger team that we had," Gandia-Rosa said.
After winning silver at the Pan American Games in Peru, Gandia-Rosa found out he made Puerto Rico's national team for the FIBA World Cup in China.
"In Peru, I found out that I'm on the list for the World Cup team so after Peru, I went to China and then over there, I did a couple of practices and scrimmage games," Gandia-Rosa said.
Gandia-Rosa looked back on the opportunity where he was able to practice with Puerto Rico's workout team while in China.
"Being able to go to China and practice with their workout team was just amazing. I don't even have words for it, it was just a wonderful experience for me," Gandia-Rosa said.
Gandia-Rosa actually played in a FIBA tournament while being on Puerto Rico's U17 team in 2014, where he averaged 12.3 points a game.
In that tournament, Gandia-Rosa was able to play against future NBA guard Jamal Murray.
Gandia-Rosa had a strong finish to his junior season, finishing 22nd in the NCAA in assists with 192.
When asked about the difference in competition between international basketball and collegiate, Gandia-Rosa mentioned the amount of experience his opponents had in the tournaments this summer.
"The biggest difference is the physicality of the games. The guys are way stronger, older, and have a lot of experience," Gandia-Rosa said.
With a summer of playing for Puerto Rico's national team under his belt, Gandia-Rosa looks to use that experience in his senior season with UNF Men's Basketball.
"This trip definitely helped me. Coach calls me "the lead guard", and I got to make sure I do a good job of leading them and making sure everybody is on the same page," Gandia-Rosa said.
Driscoll noted how Gandia-Rosa's experience this summer will be a major asset to the team.
"The experience that those guys have, the locker room, the meals, the bus rides, the moments in the lobby, the listening, that aspect of leadership and learning from a non-basketball standpoint, you can't replace it," Coach Driscoll said.
According to Coach Driscoll, when UNF first recruited and signed Gandia-Rosa, he already mentioned that he wanted to represent Puerto Rico at the Olympics.
"The one thing that was really really cool was that we were able to present that for him and that opportunity came full-circle for him," Driscoll said.
__
For more information or news tips, or if you see an error in this story or have any compliments or concerns, contact [email protected].