Birds of Trey fall short to Governors
Featured image by: Darvin Nelson
In a battle for the full forty minutes, the Ospreys couldn't deliver late in the game, losing 90-83 to Austin Peay.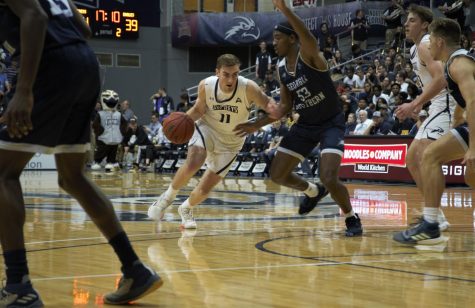 Led by a 20-point double-double (12 rebounds) from junior guard Terry Taylor, the Governors were able to surpass the Ospreys in what was a close bout for most of the game.
The first half was a back and forth affair. Although Austin Peay held a 10-point lead at one point in the half, the Ospreys were able to pull it back to a three-point deficit by halftime.
The second half was even more hotly contested. Both teams fought for the lead all half, with eight lead changes, with neither team leading by more than six until the last 20 seconds of play.
Defense was the key for the Governors. The Governors held the Birds of Trey to 7-21 from deep, forcing them to rely on their inferior inside game. They also forced 16 turnovers from UNF and held them to a season low in rebounds with just 30.
The Ospreys' seniors performed well as Garrett Sams, JT Escobar, Ivan Gandia-Rosa and Wajid Aminu combined for 57 of the team's 83 points. Sophomore Carter Hendricksen also put up 17 points and 10 rebounds, a double-double of his own.
North Florida moves down to 6-5 with this loss.
The Ospreys' tough road stretch continues against Southern Mississippi (3-7) next Saturday, December 14 at 3:00 p.m. 
__
For more information or news tips, or if you see an error in this story or have any compliments or concerns, contact [email protected].