The world is better with color, not without; UNF LGBTQ Center event highlights
It was 6 p.m. on a Friday night, and light streamed through the Museum of Contemporary Art's front windows in downtown Jacksonville. The first few dozen of about 100 guests were just arriving, there for the University of North Florida LGBTQ Center's annual Building Bridges Creating Community fundraising event. This one on March 30 would be their 17th anniversary. 
People stood around eight waist-high black circular tables in the MOCA's front lobby. Holding drinks from the bar, they socialized, enjoying food and live music before the event started closer to 7 p.m. 
The room was largely devoid of color, aside from rainbow-dyed roses in the center of each table and guest nametags hung from rainbow lanyards. 
This year's theme was "The Grayscale," and guests were asked to wear only shades of gray. The reason? To show everyone what a world without color would look like.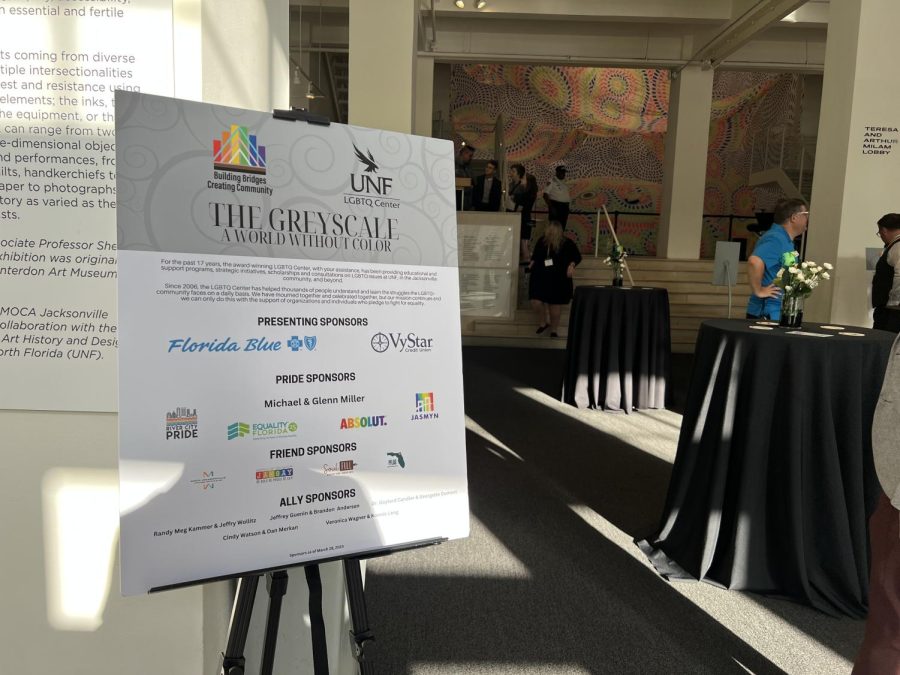 After a welcome from LGBTQ Center Director Manny Velásquez-Paredes and Master of Ceremonies Allison Bradish, UNF Chief Diversity Officer Richmond Wynn gave a speech. 
Dr. Wynn explained why, from his perspective, the center truly deserves the title 'Best of the Best' it was awarded last year. Referencing efforts by Florida lawmakers and Gov. Ron DeSantis to push for removing diversity, equity and inclusion from state education in recent months, he thanked guests for their current and future support. 
"All of it is, frankly, under attack," Dr. Wynn said about UNF's diversity departments. "We are taking it one step at a time, but this is not easy. I appreciate your support."
With the guidance of three UNF students—one alumnus and two current—guests then journeyed through time. 
A look at the past, present and future
First, Haiden Baier, a former employee at the center and current care coordinator for JASMYN, told guests about the past. The LGBTQ Center introduced him to activism, he said, helping him learn about LGBTQ+ history and pride.
Moving forward to the present, Students for a Democratic Society President Lissie Morales told guests their perspective as a Black, Puerto Rican, queer, trans and nonbinary individual living in Florida where lawmakers have been "doing everything in [their] power to tear marginalized identities down," they said. 
Addressing DeSantis's January pledge to eliminate funding for DEI in Florida education, Morales praised the LGBTQ Center as a safe space for the marginalized community. That's why the LGBTQ Center is important to them, they said. 
"Whether it's expanding dialogue over taboo topics or providing a safe space against those who wish to persecute us, the center is an affirming and inclusive environment where justice, equality and respect prevail," they said.
Morales told the assembled guests that when "LGBTQ rights are under attack, there is nothing else to do but stand up and fight back," calling on the student activist group's popular chant 'Stand up fight back.'
UNF Student Body President Nathaniel Rodefer closed out the journey with a look to the future. His overall message? The LGBTQ+ community—at UNF and beyond—will continue to exist.
"We may receive political potshots, but this community isn't going away. Nor our visibility, or our belonging, or the care and love that we have for each other," Rodefer said. "It may be challenging, we aren't afforded the luxury of passivity in our civic institutions, but we will weather this storm." 
No one can see the future, but Rodefer confidently said that even with current and future challenges, they will get to that "better society."
The 'State of the Center'
At least 580 anti-LGBTQ bills have been introduced across at least 45 states as of late March 2023, according to the Movement Advancement Project (MAP) an independent non-profit think tank that researches LGBTQ issues and laws. 
Director Velásquez opened his speech with that statistic. Those bills weren't introduced because lawmakers believe in them, he said, but because they want to instill fear and push the LGBTQ+ community "back into the closet."
Typically recognizable across the UNF campus for always wearing at least one thing rainbow-colored, tonight, the LGBTQ Center director wore a gray suit.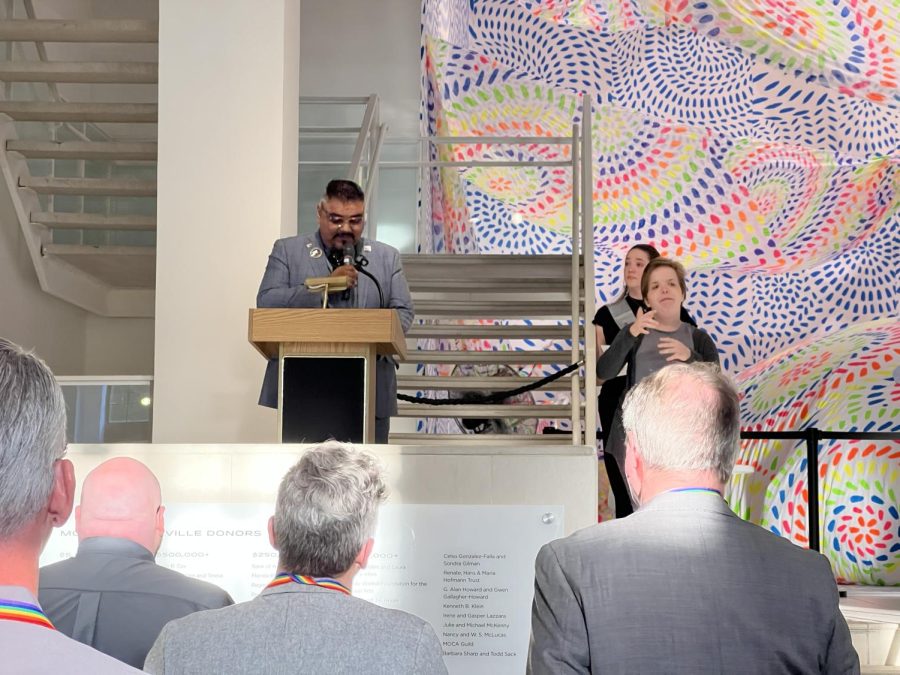 Reiterating Rodefer's earlier point, Velásquez reminded everyone that queer people would continue to exist and he, through the LGBTQ Center, would continue to support them. However, though the center is hoping for the best, they're "preparing for the worst," he said. 
"Websites are being scrutinized for content, drag queens are being canceled from events, books are being banned and even art is being censored," Velásquez said. "Not because they are hurtful or offensive, but because they educate and entertain people, and the more ignorant people are, the easier they can be manipulated."
The LGBTQ Center director had one message: we will survive.
"Let's not accept self-censoring, let's not accept self-canceling, let's not allow politicians or anyone to blackmail us back into the closet," he said. 
Bringing color back to the world
Before closing the night with drinks, networking and socializing, each guest was handed a rainbow foam light for "we have been gray for far too long tonight," Bradish told the crowd, smiling.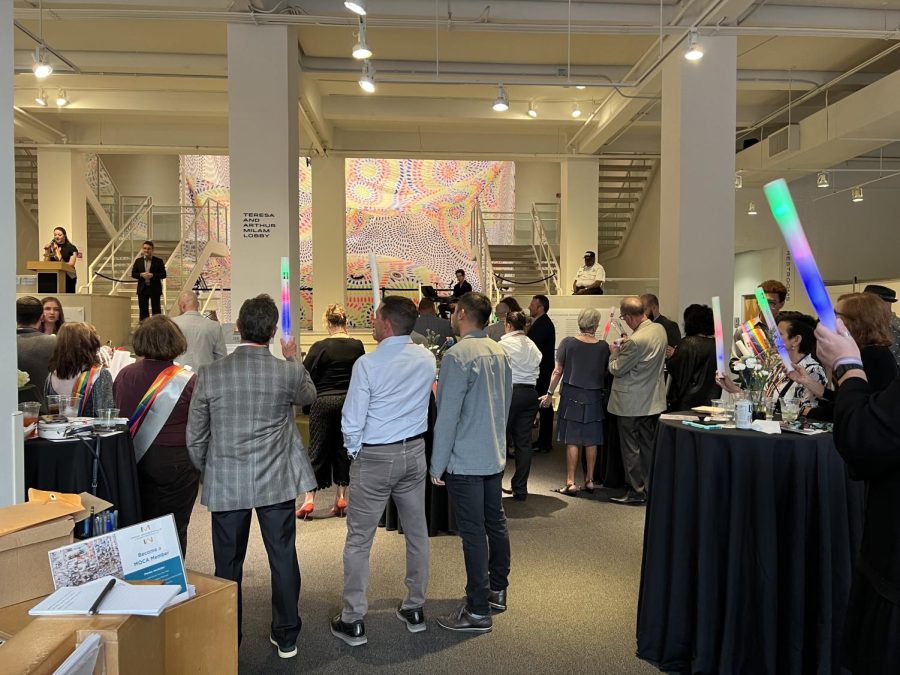 With the lights switched on, Mason Manion, the assistant director of Avondale United Methodist Church, an LGBTQ-inclusive church, performed a cover of True Colors by Cindy Lauper and Proud by Heather Small. 
It was now 7:35 p.m., and guests waved their rainbow lights high with pride. 
___
For more information or news tips, or if you see an error in this story or have any compliments or concerns, contact [email protected].